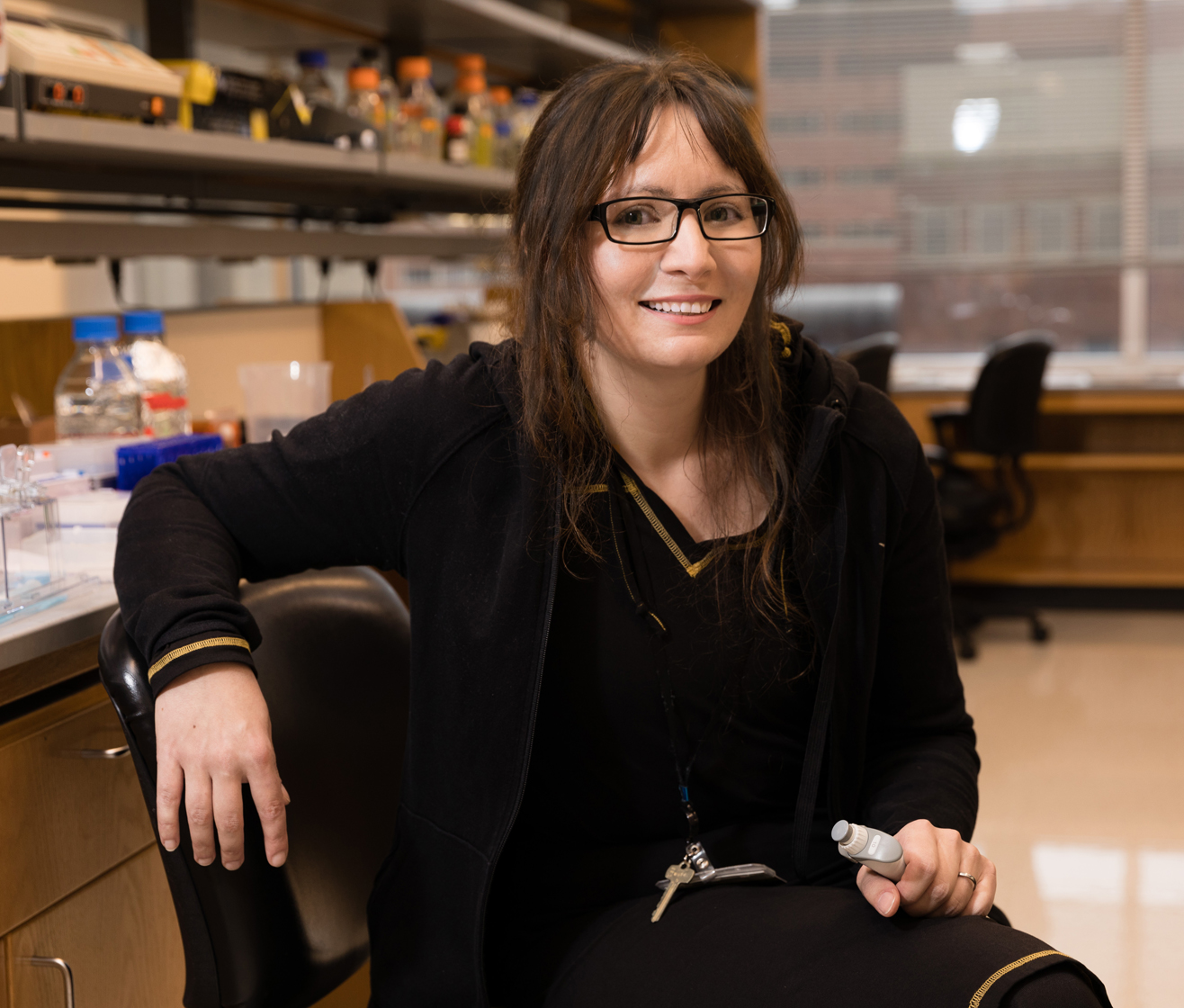 Kate Adamala
Kate received a MSc in chemistry from the University of Warsaw, Poland, studying synthetic organic chemistry. In grad school, she worked with professor Pier Luigi Luisi from University Roma Tre and Jack Szostak from Harvard University. She studied RNA biophysics, small peptide catalysis and liposome dynamics, in an effort to build a chemical system capable of Darwinian evolution.
Kate's postdoctoral work in Ed Boyden's Synthetic Neurobiology group at MIT focused on developing novel methods for multiplex control and readout of mammalian cells.
Her full first name spells Katarzyna; she goes by Kate for the benefit of friends speaking less consonant-enriched languages.
Contact: kadamala@umn.edu.
Mailing address: 420 Washington Ave SE, 5-128 MCB, Minneapolis, MN 55455
Lab members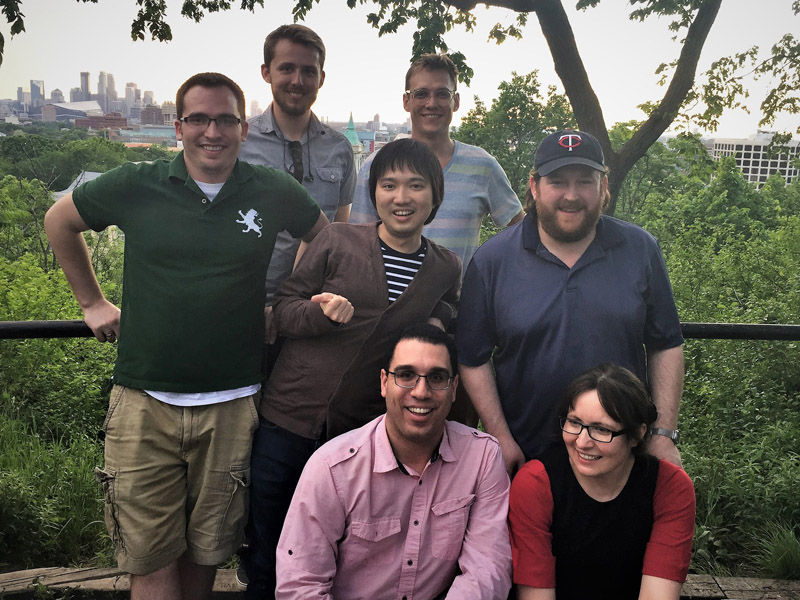 Joint lab party with Engelhart lab.
From left, back row: Nathan, Joe, middle: Brock, Kei, Aaron, bottom: Jose, Kate. Missing from this picture: Brent Heffron.
Jose Alejo Amaya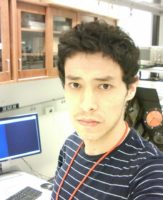 Contact: jalejoam@umn.edu
Jose L. Alejo received his B.Sc. in physics at Universidad de los Andes in Bogotá, Colombia, numerically studying a mathematical model of viral budding. In 2009, he obtained his M.Sc. in physics, during which he studied small vesicle fusion and uptake into human astrocyte cells, under Professors Chad Leidy and John M. Gonzalez.
He continued to pursue doctoral studies at Weill Cornell Medicine in New York, where he initially studied the effects of small molecules on lipid bilayers under Professor Olaf Andersen and then wrote his dissertation on the study of ribosome machinery biophysics through single-molecule imaging techniques under Professor Scott Blanchard.
Currently, he is developing platforms for the compartmentalized, controlled evolution of the translation machinery, with views towards both origin of life and biotechnology research.
Jose works on projects jointly with Engelhart lab.
---
Brock Cash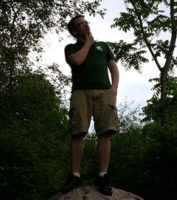 Contact: cash0066@umn.edu
Brock Cash graduated from Bethel University in 2012 with a B.S. in Chemistry.
He spent his undergraduate years working for Life-Science Innovations helping research novel vaccines for the poultry industry, and, upon graduation, worked in Quality Control and as an Electrician until pursuing an M.S. in Cell and Molecular Biology in 2015 at Saint Cloud State University. His thesis focused on using Yeast-Two Hybrid screens to discover and characterize putative protein partners of a suspected DNA licensing protein in Toxoplasma gondii, and graduated in late 2016.
He recently finished an internship with Life-Science Innovations exploring the application of Fluid Bed Coating for vaccine development. In 2016, Brock joined the Adamala-Engelhart Lab to work on current projects.
In his free time, Brock enjoys ordering himself and creating disorder around him (typically in the form of eating food), reading, music, and learning about history and its relation to geopolitics.
---
Kei Takahashi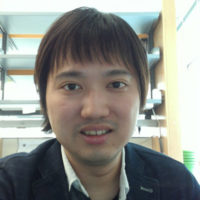 Contact: ktakahas@umn.edu
Kei Takahashi received his Bachelor of Science in physics at Tokyo University of Science in 2010, with graduation thesis focused on the behaviour of fermions in optical lattices solved by Bogoliubov-de Gennes methods using numeric calculation. In 2010, he began to study giant liposome preparation methods for synthetic biology as a Masters student at University of Tokyo, Komaba.
After obtaining his Masters degree in 2012, he continued at University of Tokyo, Komaba in his doctoral studies on a "two-dimensional reconstituted-system" consisting of a cytosolic extract and a solid-supported lipid membrane for revealing the mechanism of amoeba motion. He also developed an experimental system for DNA-lipid conjugate transition. In 2015, he obtained his PhD.
Currently, he is studying aptamer-tagged liposomes and their interaction with bacteria, both as an experimental model of the transition from prokaryotic to eukaryotic life, and as new drug delivery vehicles.
Kei works on projects jointly with Engelhart lab.
---
Brent Heffron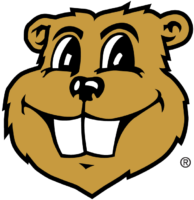 Contact: heffr002@umn.edu
Works on projects jointly with Engelhart lab.
---
Nathaniel Gaut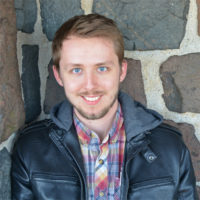 Contact: gautx002@umn.edu
Nathan received his B.S. in Human Biology at the University of California, San Diego in 2015. He began his research career as an undergraduate under the supervision of Dr. Huilin Zhou, studying mechanisms behind genomic instability of cancer cells. He later became inspired to pursue graduate programs with focus on synthetic biology and tool development.
In 2016, Nathan started graduate school at the University of Minnesota, and joined Dr. Kate Adamala's lab as her first graduate student. He is working on developing synthetic minimal cells as a tool for a wide range of applications, from simplified models of cellular processes to highly modular bioreactors. In this research, he uses synthetic biology to re-engineer the machinery of life, to create new research tools and products.
Currently, he is studying interactions between RNA binding proteins and ribozymes, enabling new ways of synthetic cell gene regulation as well as a combinatorial fusion system for engineering complex genetic network interactions in synthetic minimal cells, with applications in metabolic engineering.
Works on projects jointly with Engelhart lab.
---
Joseph Heili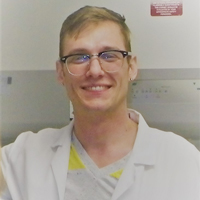 Contact: heili029@umn.edu
Joseph Heili graduated from the University of Minnesota-Twin Cities in 2011 with a B.S. in Biology and Plant Biology Minor. He spent four years working in the University of Minnesota Veterinary Diagnostics Laboratory until 2016 when he completed his M.S. in Biology and moved to the Adamala-Engelhart Laboratory.
His areas of interest are based in microbial ecology with goals involving bioremediation, aquaponic and aquaculture biofiltration, as well as gut and soil microbiome management. His research will focus on bacterial quorum signaling, using liposomes as models to investigate methods of influencing bacterial population dynamics.
In his free time, Joseph enjoys snowboarding, brewing beer, volleyball, camping and carpentry.
Works on projects jointly with Engelhart lab.
---
Alumni
Jose Gomez-Garcia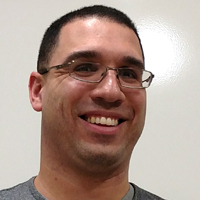 Our very first lab member.
Left to attend medical school
---